Small Family Run Vineyards
Tim sources high quality wines from small family producers across the globe. Tim buys wines for some of the best restaurants in the country and we keep a few bottles aside to sell online. You'll be hard pushed to find our wines anywhere else in the UK.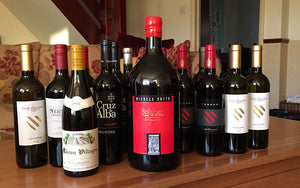 Free Delivery?
Order 6 bottles or more for half price delivery
Order 12 bottles or more for free delivery
Shop Now
Award Winning Prosecco
Nino Franco have recently scooped the top prize at THE CHAMPAGNE & SPARKLING WINE WORLD CHAMPIONSHIPS  2018" by Tom Stevenson, the most prestigious sparkling challenge in the world. See the awards here >
Wine Searcher Awards
We are delighted to have been awarded the following in Wine-Searcher's 2018 Retailer Awards:
SILVER 2018 -Bordeaux List in Kent
BRONZE - 2018 European List in Kent
BRONZE - 2018 Overall List in Kent
Wine-Searcher's Retailer Awards aim to recognise truly excellent price lists. To have been awarded, your price list must have demonstrated:
A wide range of high-quality wines or spirits based on critic scores. Significant depth and breadth across regions. Consistency throughout the year.